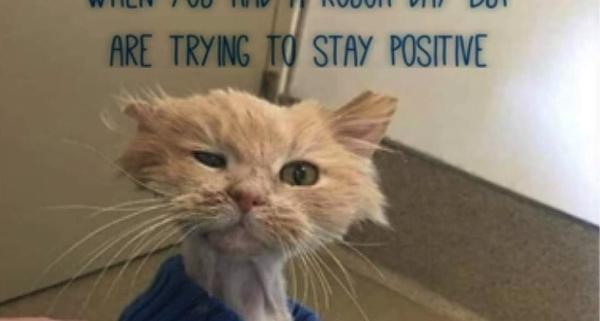 Animals and children have such wonderfully obvious and vivid ways of indicating how they are feeling at any given time.
I AM SURE we have all gone through the same emotions as this 'Kitty' and know what it is like to face challenges, especially those we have all faced in the past few years!
With the Festive Season upon us, we can have the intention of joining in on the fun when family and friends get together, but as New Year draws closer, it is time to start making the 'changes' we know we need to make, in order to go into 2020 the Year Of Great Change, feeling positive, worthy, powerful, purposeful, and driven.
Depending on how you earn your living, you will need to read the language of your superiors, sub-ordinates, staff, clients, children, family and friends, especially when negotiating deals. So start becoming aware of the Body Language 'indicators' those that are fairly obvious and also be very mindful of what it is that you are messaging out there, 'indicating' what is sitting in your own sub-conscious mind.
A PICTURE PAINTS A THOUSAND WORDS (Especially the picture that YOU paint of what is really going on in your mind!)
"THE LANGUAGE OF THE BODY" WORKSHOP FOUR – Adrienne Verney Productions
Especially good for anyone in management, dealing in the business and private sector, and who deal with the complexities of negotiations (family or business). It is also a wonderful Team Build for a Sales or Marketing Team.
https://www.averney.com/wp-content/uploads/2019/12/Oh-my-Gosh-–-That-is-exactly-how-I-felt.jpg
400
600
Webmaster
https://www.averney.com/wp-content/uploads/2019/10/AV-Logo-.Reversed-Big.png
Webmaster
2019-12-12 18:52:16
2019-12-17 19:13:25
Oh my Gosh – That is exactly how I felt!